Nouveau topic dédié à la Fender Mustang... et qu'à la Fender Mustang !
SOMMAIRE :
Page 2 :
vidéo de réglage du bloc vibrato pour éviter le désacordage
Page 6 :
Liste des utilisateurs
Page 6
Vidéo d'un réglage complet
Page 6 :
Trouver des micros de rechanges
Page 6
Comparatif Classic reissue 65 et vintage de 1966
Page 6
Régler son vibrato
Page 6
Vidéo Mustang Classic reissue (gros plan et sons)
Page 6
Liens vers photos de Mustangs restaurées
Page 7
Video Mustang vintage 1964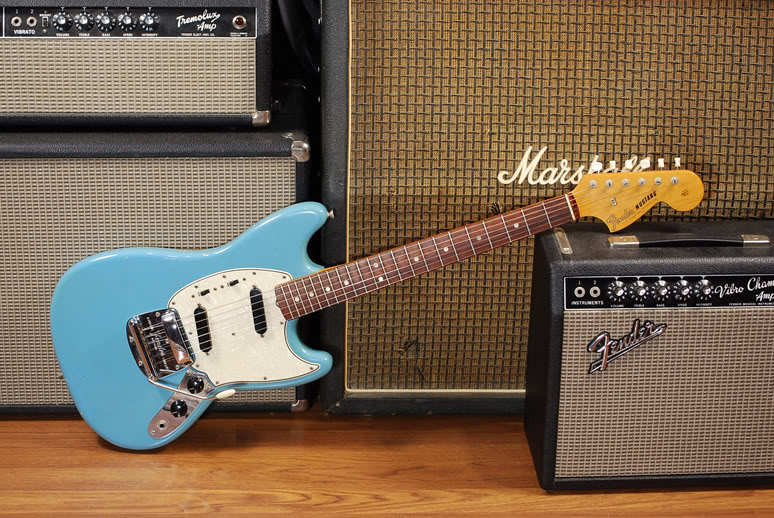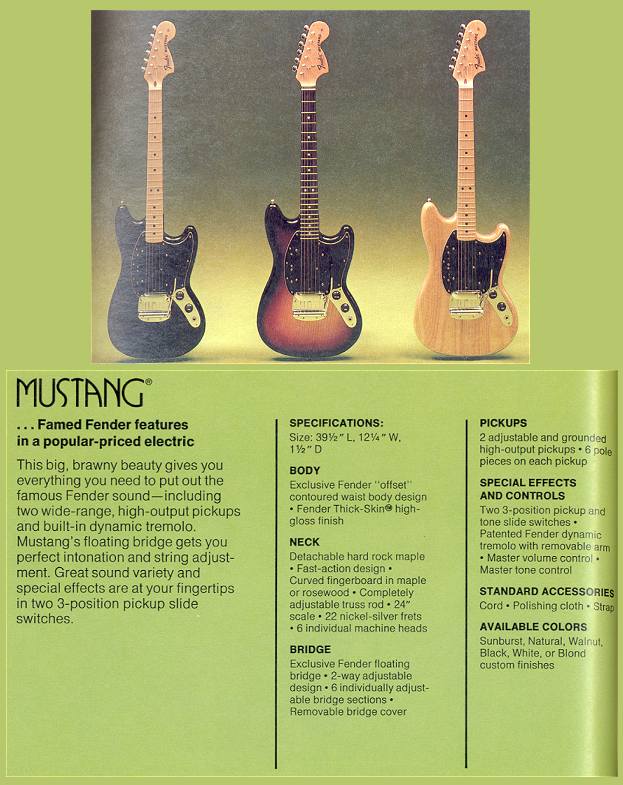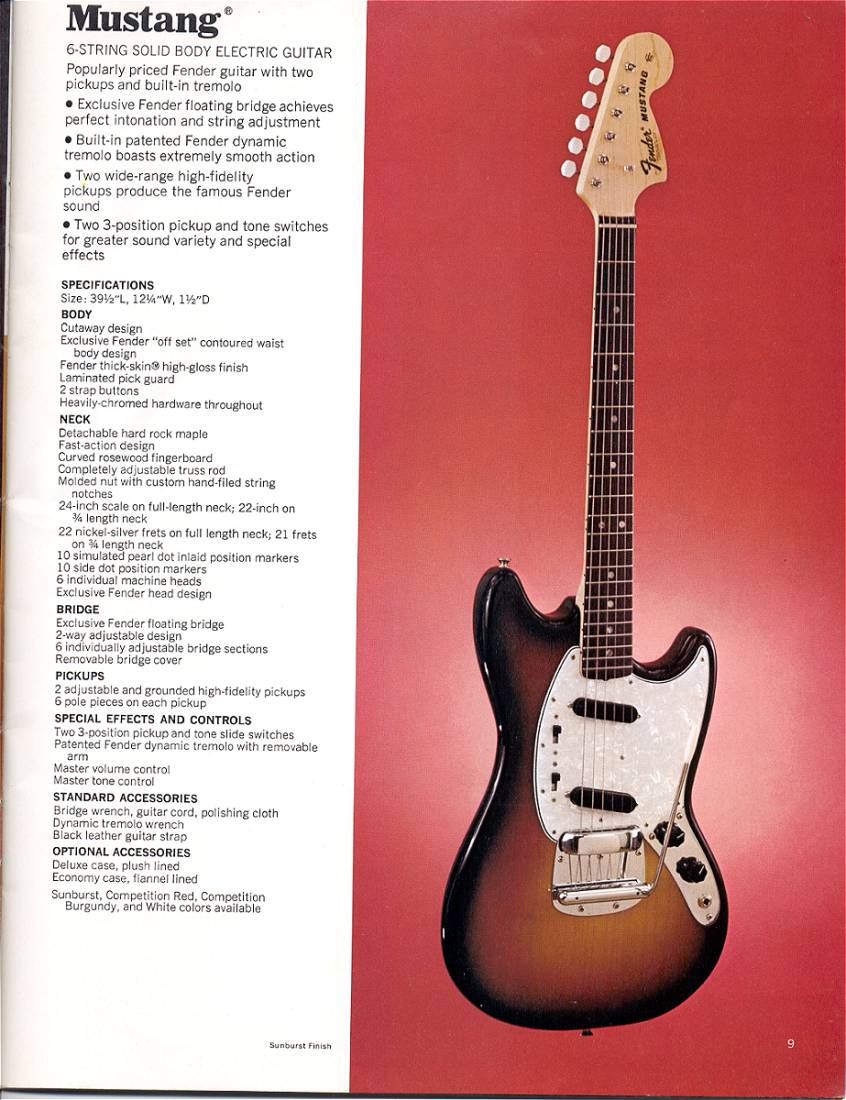 THE FENDER MUSTANG® GUITAR
(Written by fenderadmin, site Fender)
1973 Fender advertisement depicting the Mustang in its late-'60s/early-'70s "competition" racing stripe-finish incarnation.
Fender was keenly aware in the mid-1950s that there was much to be gained by offering "student" instruments for retailers who offered in-store music instruction. The thinking went that if beginners with beginner guitars stuck with it, dealers who offered lessons were well placed to launch them to the next level by selling them full-size Fender Telecaster® and Stratocaster® guitars. Hence the arrival in 1956 of Fender's first two student guitars, the single-pickup Musicmaster® and the two-pickup Duo-Sonic™. Both were short-scale guitars (22.5" compared to 25.5" for the Telecaster and Stratocaster) at the low end of the price list ($119.50 and $149.50 respectively). Fender revamped its student guitar line in 1964 by offering both guitars in both short and medium (24") scales and by introducing an entirely new guitar that August, the Mustang.
Moderately priced at $189.50, the Mustang was a dual-pickup, 22-fret medium-scale guitar that owed much to the Duo-Sonic, although it had an offset waist like a Jazzmaster®.
A very few 21-fret short-scale models were built.
The Mustang was the first Fender student model with a vibrato system. Its floating bridge and unusual "Fender Dynamic Vibrato" tailpiece resembled that of the Jazzmaster, although each Mustang bridge saddle had only one string slot (other Fender guitars had bridge saddles with several slots to enable a small range of string spacing adjustment).
The two slanting single-coil pickups were wired with electronics that were highly unusual for a Fender guitar. First, each pickup had its own adjacent three-position slider switch (in phase on—off—out of phase on), yielding eight different tone settings. Second, it had no pickup selector switch or circuit selector switch. The two slider switches allowed the pickups to be used either in single or in parallel; the second "on" position reversed the phase of the selected pickup, enabling the pickups to be in or out of phase when used in parallel.
It was also possible to modify the wiring to put the pickups in series in or out of phase without excessive noise. Another option was to install a more conventional pickup selector switch; the Mustang's body was already routed for this beneath the pickguard (which in such cases would need to be cut accordingly), and the two slider switches could be put to other uses or disregarded. Such electronics changes were common when the model became available; vintage Mustangs are consequently often found with modified pickups and wiring.
Like its Jazz Bass®, Bass VI and Jaguar® predecessors, the Mustang's control knobs (one volume, one tone) were mounted on a chrome plate. Other 1964 features included a slab body, maple neck with rosewood fingerboard and white dot markers, single string tree on the small headstock, white tremolo arm tip and Kluson tuners with plastic oval knobs.
The 1964 Mustang was available in three colors—red, blue and white.
The red and blue models had three-ply white pearl pickguards, solid black pickup covers and black pickup switches. The white one came with a three-ply tortoiseshell pickguard, solid white pickup covers and white pickup switches.
The
1965-1966 Mustang changed little
, but did get the larger headstock typical of the CBS-acquisition era, an additional patent number on the headstock, and "F key" tuners with white plastic knobs that had a more square shape. The Mustang bass guitar was also introduced in 1966.
The 1967-1968 Mustang shed its "Offset Contour Body" headstock decal and gained a patent number on the tailpiece (previously stamped with "patent pending"). Body and forearm contours were added in 1969, which also marked the first appearance of the three "competition" finishes. These Mustangs had racing stripes on the front of the body around the forearm contour—red with cream stripes, blue with light blue stripes and orange with dark orange stripes. Versions with matching and non-matching headstocks were produced.
The Mustang in its current Classic Series '65 edition.
Competition Mustangs replaced regular Mustangs around 1970, but were discontinued around 1973. Around this time, regular three-ply white plastic pickguards replaced the pearl white pickguards, and the Mustang became available in three-color sunburst, natural, walnut, black, white and blonde. A second string tree was added in 1974, and the tuners had chrome knobs.
Three-ply black pickguards became the norm for Mustangs in 1976, as did black tremolo arm tips and Stratocaster-style control knobs. One-piece maple necks also became an option. The serial number was moved from the neck plate to the headstock in 1977, and Antigua became a color option.
The Mustang was
produced until 1982
, when it became the last Fender floating-bridge instrument to be discontinued. It would, in 1990, become the first to be reissued, and it became a cult favorite among grunge and alternative guitarists who appreciated its low price and non-mainstream cool.
The Mustang still exists today in the form of the Classic Series '65 Mustang.
It comes in
Daphne Blue, Olympic White and Dakota Red
, with features including a 22-fret rosewood fingerboard, medium scale, three-ply white pearloid and four-ply tortoiseshell pickguards, vintage-style floating bridge and "Dynamic Vibrato" tailpiece, on/off slider and in/out phase switches for both single-coil pickups, vintage-style tuners with white knobs, and vintage-correct headstock and bridge plate logos.
Throughout its long history, the Mustang has been put to good use by scores of notable guitarists, including Adrian Belew (Frank Zappa, King Crimson, the Bears), Frank Black (Pixies), Bilinda Butcher (My Bloody Valentine), David Byrne (Talking Heads), Kurt Cobain (Nirvana), Graham Coxon (Blur), John Frusciante (Red Hot Chili Peppers), John McLaughlin (Miles Davis, Mahavishnu Orchestra), Thurston Moore (Sonic Youth), Buzz Osborne (Melvins) and Todd Rundgren, among many others. Not bad for a student guitar.
Catalogue Fender de 1964 :