C'est parti pour une présentation :
2018 LP STANDARD
LPS18HSCH1 - Heritage Cherry Sunburst
LPS18MVCH1 - Mojave Burst
LPS18CXCH1 - Cobalt Burst
LPS18ODCH1 - Blood Orange Burst
2018 LP TRADITIONAL
LPTD18HSNH1 - Heritage Cherry Sunburst
LPTD18HBNH1 - Honey Burst
LPTD18TBNH1 - Tobacco Burst
2018 LP CLASSIC
LPCS18GTNH1 - GoldTop
LPCSW18PBNH1 - Pelham Blue
LPCSW18EBNH1 - Ebony
2018 LP STUDIO
LPST18VSCH1 - Vintage Sunburst
LPST18KHCH1 - Smokehouse Burst
2018 LP FADED
LPF18WFNH1 - Worn Bourbon
LPF18WCNH1 - Worn Cherry
2018 LP TRIBUTE
LPTR18SGNH1 - Satin Gold
LPTR18FHNH1 - Faded Honeyburst
2018 SG STANDARD
SGS18EBCH1 - Ebony
SGS18HCCH1 - Heritage Cherry
SGS18AMCH1 - Autumn Shade
2018 SG SPECIAL
SGSP18SCNH1 - Satin Cherry
SGSP18NSNH1 - Natural Satin
2018 EXPLORER
DSX18ANNH1 - Antique Natural
2018 FLYING V
DSV18ACNH1 - Aged Cherry
2018 FIREBIRD
DSFR318EBNH1 - Ebony
...and HP series:
2018 HP LP STANDARD (3249 euro)
HLPS18H8CH1 - Heritage Cherry Fade
HLPS18M8CH1 - Mojave Fade
HLPS18C8CH1 - Cobalt Fade
HLPS18O8CH1 - Blood Orange Fade
HLPS18P8CH1 - Hot Pink Fade
2018 HP SG STANDARD (1999 euro)
HSGS18C8CH1 - Cobalt Fade
HSGS18O8CH1 - Blood Orange Fade
HSGS18M8CH1 - Mojave Fade
2018 LP STANDARD
Captivating new burst finishes exquisitely applied over a AAA maple top should stop LP fans in their tracks. As Gibson's standard bearer, the 2018 Les Paul Standard embodies a well conceived mixture of proven ingredients blended with some updated performance and playability tricks. The latter includes an asymmetrical slim taper neck that, combined with beautifully finished frets, invites serious shredding. Burstbucker Pro Rhythm and Lead pickups deliver classic PAF-like (AKA, "Patent Applied For") sound that can be shaped any way you want thanks to four push-pull knobs that open up whole new kingdoms of tone. Functions include standard coil taps, phase reverse, plus a pure bypass setting that sends the aggressive output direct from the pickups, bypassing both tone and volume knobs. Long sets are made much more shoulder-friendly thanks to an Ultra Modern weight-relieved body.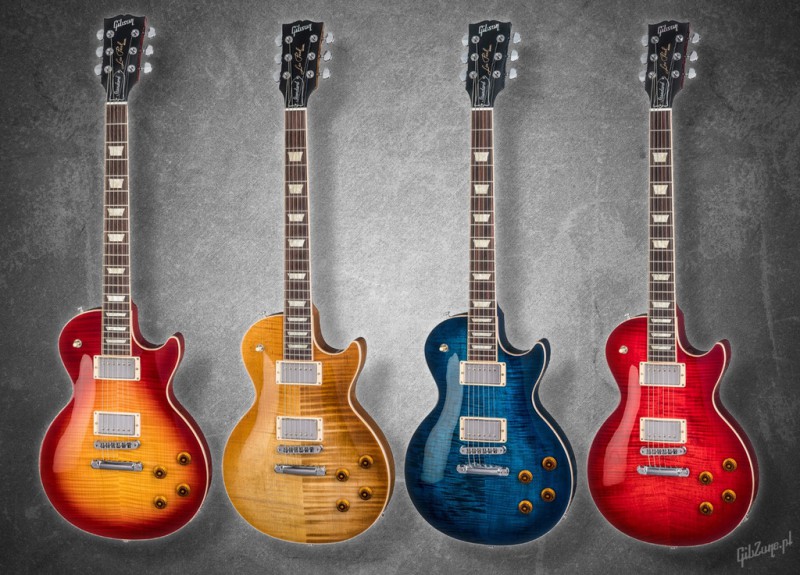 2018 LP TRADITIONAL
If one instrument can be said to completely capture vintage LP mojo both sonically and cosmetically, the Les Paul Traditional may be it. It's built for the player who loves the heft of the original LP's body and neck and who thirsts for genuine PAF sound. Classic burst finishes are applied over the AA figured maple top then complemented with vintage elements such as gold top hat knobs, cream binding, and locking kidney tuners. The hand-wired pickup circuitry includes orange drop capacitors to wring all the potential out of the Burstbucker 1 and 2 pickup duo.
2018 LP CLASSIC
The Les Paul Classic continues to be the guitar of choice for the LP purist. The 2018 Les Paul Classic offers plenty of heft via a non-weight-relieved body that is matched by a pair of growling P90s that deliver classic old-school grit and texture to your amp's front end. The Slim Taper neck profile and cryogenically treated frets offer new levels of playability. Hand-wired orange drop capacitors help recreate the vintage tone (and vibe) that old-school fans demand.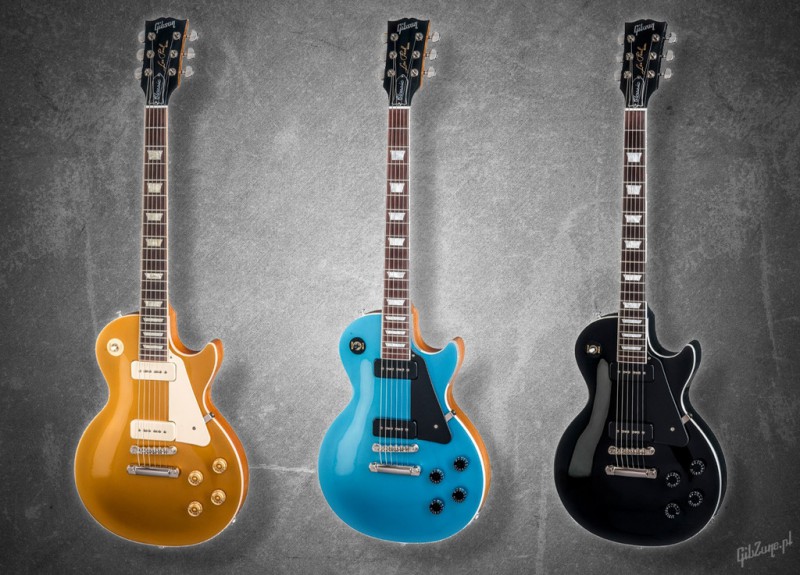 2018 LP STUDIO
As with the Faded LP, the 2018 Les Paul Studio makes a powerful first impression thanks to an amazing finish on the maple top. Whether you choose the Smokehouse Burst or slightly more traditional Vintage Sunburst, their depth and warmth set them apart. A 57 Classic pickup in the neck and '57 Classic Plus in the bridge with coil taps gives you all the firepower and tonal versatility you need to exploit the Studio's native saturation and sustain. The Slim Taper neck and Ultra Modern weight relieved body pay big comfort dividends on long sets and sessions.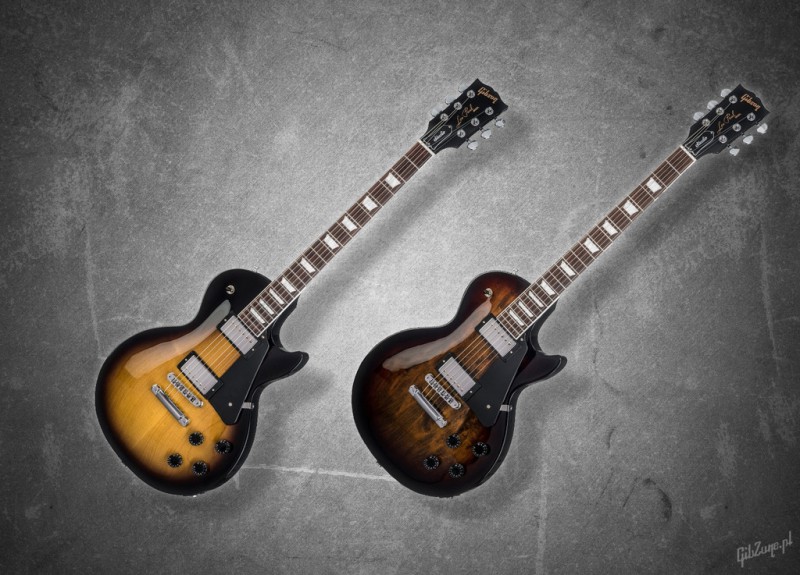 2018 LP TRIBUTE
The aptly named 2018 Les Paul Tribute pays homage to its heritage with the classic maple-mahogany marriage that gives all Pauls their remarkable sustain and midrange complexity. From its vintage Keystone tuners to the trapezoid inlays and cream pickguard to the non weight-relieved body, the Tribute mirrors its predecessors cosmetically. Addressing the modern player's needs, there's a comfortable Slim Taper neck and a potent combination of 490R and 490T humbuckers for the punch and advanced playability demanded by modern musicians.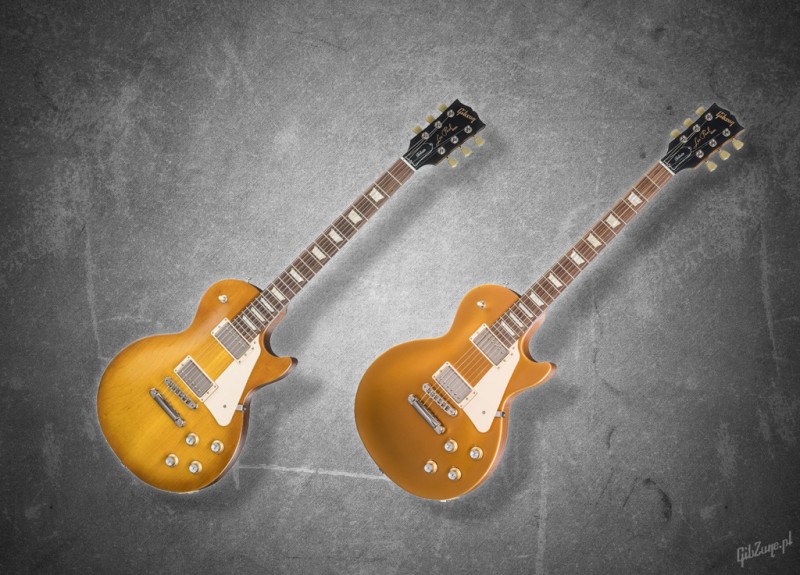 2018 LP FADED
We were sold the first time we got a glimpse of Gibson's finishes for the 2018 Les Paul Faded. Gibson calls them "spirited." and we wouldn't argue—these are some of the coolest finishes we've seen from Gibson USA. And as with many of its 2018 stablemates, the combination of a Slim Taper neck with Ultra Modern weight relief makes for a very stage-worthy guitar. The 490R and 490T humbuckers bring the necessary trademark throatiness for which LPs are revered. Moderate pricing makes Faded LPs make a sweet choice for the budget-challenged player eager to step up to American craftsmanship.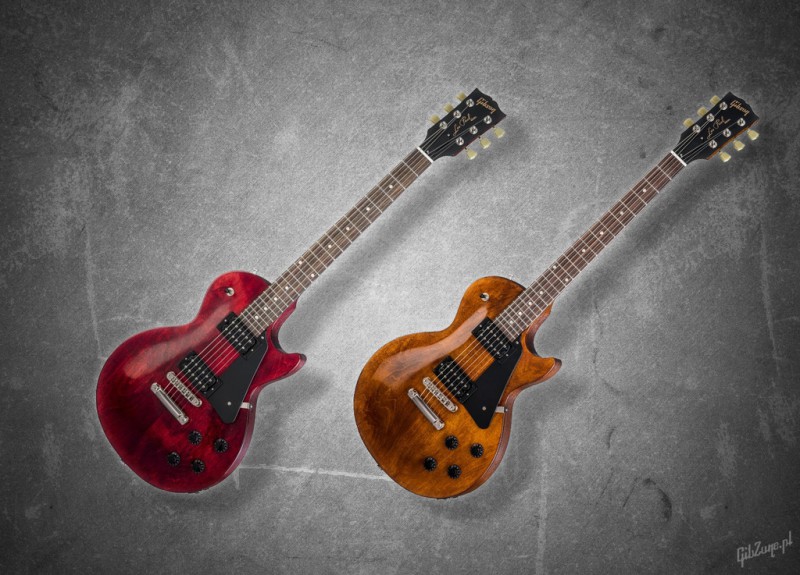 2018 SG STANDARD
When the original SG burst on the scene in 1961, it was a disruptor with its modern, bat-shaped profile and ultra-fast neck. Originally positioned as the latest update of the LP whose sales had flattened, rock wizards like The Who's Pete Townshend quickly lent the SG its iconic status. The 2018 SG Standard recaptures the sound of late-era PAF pickups courtesy of 61R and 61T humbuckers. Modern updates include locking tuners and white fingerboard binding that keys in on the traditional trapezoid inlay work.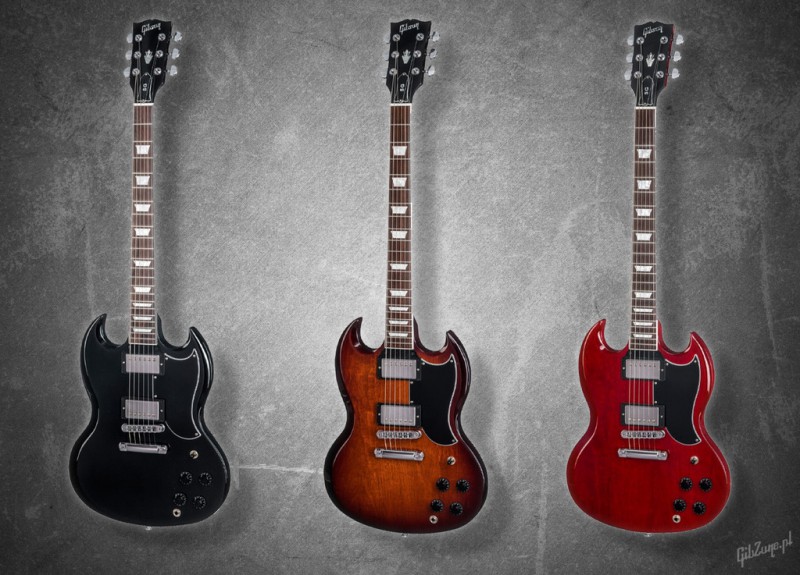 2018 SG SPECIAL
A pair of Mini Humbucker pickups lend the 2018 SG Special their bright, distinct tone that matches the guitar's simple, streamlined looks. The unbound rosewood fingerboard sits atop a Slim Taper mahogany neck that excels when fleet fretting is needed. The minimalist vibe continues with the teardrop pick guard and block inlay work. The most affordable Gibson USA SG, the Special has all the playability of more costly models.
& SG FADED
Like a beloved guitar that's seen its fair share of action while also being carefully preserved, the 2018 SG Faded has the burnished look of a veteran. Below its rich Warm Bourbon nitro finish it possesses a pair of tried-and-true humbuckers—a 490R in the neck and a 490T in the bridge route. The Slim Taper neck coupled with the SG's double cut body grant unbridled access to the entire fretboard.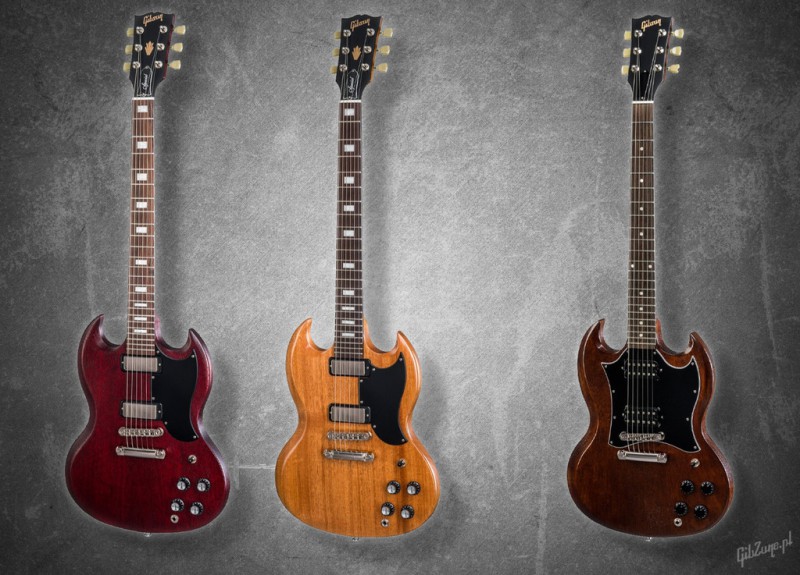 2018 FIREBIRD
Radical upon its 1963 debut thanks to an offset, futuristic body shape from car designer Ray Dietrich, the latest incarnation, the 2018 Gibson USA Firebird, continues to surprise. Equipped with dual Mini Humbuckers for optimal tonal cut, the Slim Taper through-neck construction results in a guitar with great integrity and sustain that's also a pleasure to play (and behold). The bound and torrefied granadillo fingerboard looks terrific and feels sleek beneath your fingers.
& FIREBIRD STUDIO
The Firebird Studio differs from its stablemate in two main respects: It's equipped with a pair of nasty-sounding P90s and has a Vintage Sunburst finish. The pickups give it the raw, unbridled single-coil sound so many of us lust after. Deluxe appointments include mini Grover tuners and a black pickguard inscribed with the Firebird image—it looks spectacular against the burst finish.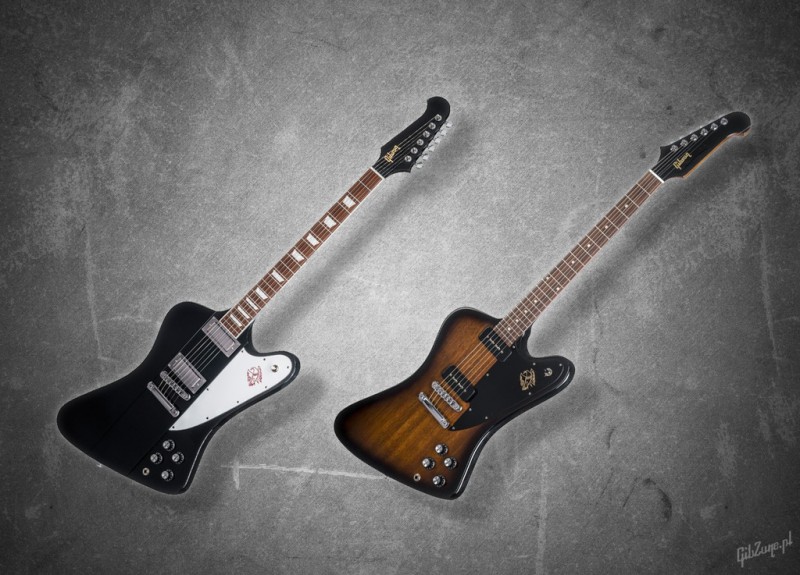 2018 FLYING V
When it was first introduced in 1958, the Flying V was a flop. Maybe it was too far ahead of its time with that then-revolutionary profile. We're not worried about the 2018 Gibson USA Flying V suffering such a fate, however. Since that ill-fated late '50s launch, the Flying V has been played by some of the biggest names in rock and blues including Jimi Hendrix, Albert King and Lonnie Mack and it has become pretty much a permanent part of Gibson's lineup. The 2018 edition is armed with a Burstbucker 2 and 3 pickup array that generates healthy gobs of sustain thanks to the through mahogany neck. The torrefied granadillo fingerboard is a shredder's playground.
& EXPLORER
The Flying V wasn't the only eyebrow raiser from Gibson in 1958. Sharing the limelight was the equally radical-looking Explorer with its asymmetrical body. Adopted by hard-charging rock-blues guitarists such as the late Johnny Winter, the latest incarnation, the 2018 Gibson USA Explorer, is built to take no prisoners. A Burstbucker 2 in the neck and Burstbucker 3 in the bridge position generate enough sonic heat for any modern genre. The set Slim Taper mahogany neck with torrefied granadillo fingerboard is swift and helps generate massive sustain and depth.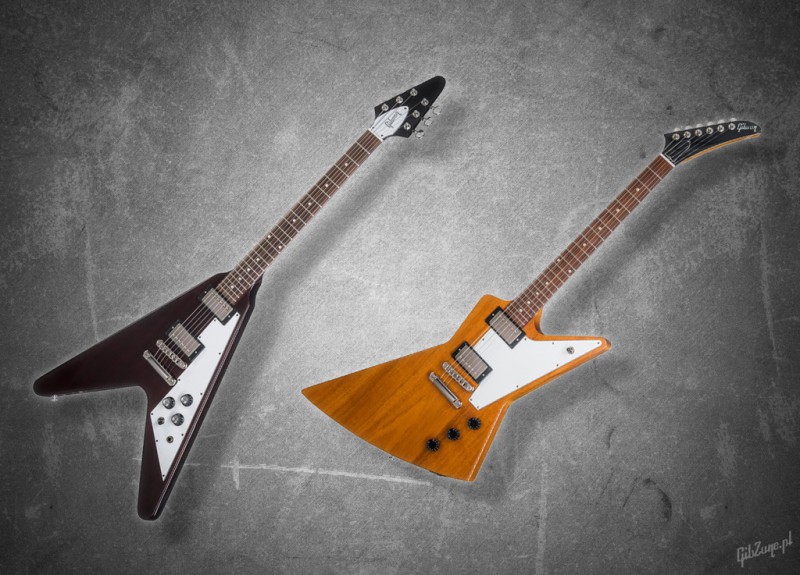 2018 HP LP STANDARD
Who says an old dog can't be taught new tricks? The 2018 Les Paul Standard HP significantly ups the ante on what you can achieve with an LP both musically and cosmetically. A gloriously figured AAA+ maple top creates an impression of great depth thanks to your choice of masterfully applied fade finishes. Output from the Rhythm Pro and Lead Pro+ humbuckers can be shaped up in nearly any way imaginable. Offering 4 push-pull knobs for significant tonal flexibility using its DIP switch, you can set more than 150 different wiring configurations. This Paul knows no sonic limits. The Ultra Modern weight-relieved body combined with the asymmetrical Slim Taper neck and ribcage-friendly belly scarf all contribute to this exceptionally comfortable instrument. Appointments and hardware are also of the highest caliber and include G-Force tuners plus an adjustable titanium zero-fret nut.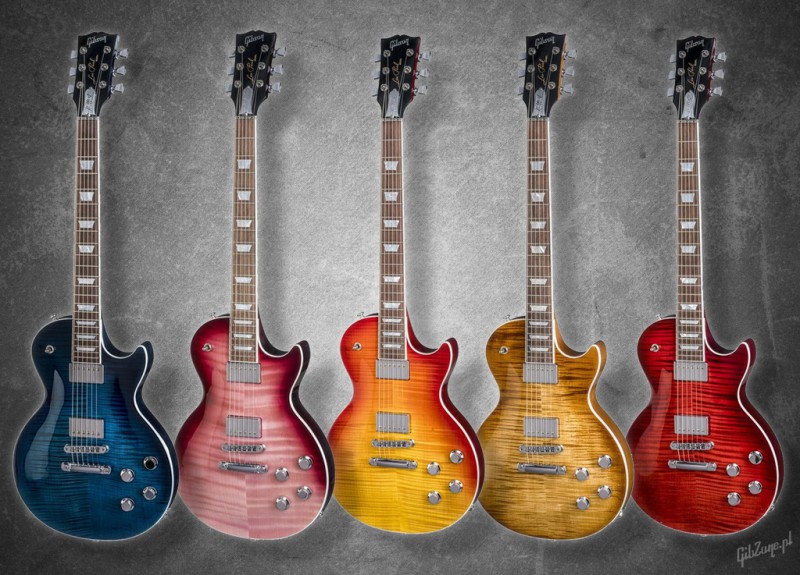 2018 HP SG STANDARD
What's that? You say you love the SG but you're lusting for performance and playability upgrades? It could just be the 2018 SG Standard HP has your name on it. This is an SG for the non-traditionalist who's looking for maximum sonic and visual impact. The 57 Classic neck humbucker and Super 57 Classic bridge pickup churn out to-die-for tones that go on forever thanks to advanced DIP switch choices and two push-pull volumes. Everything is top shelf from the titanium adjustable zero fret nut to awesomely stable G Force tuners. The AA figured maple cap looks incredible below a palette of fade color options. For 2018 Gibson has added a slight amount of body thickness to improve balance.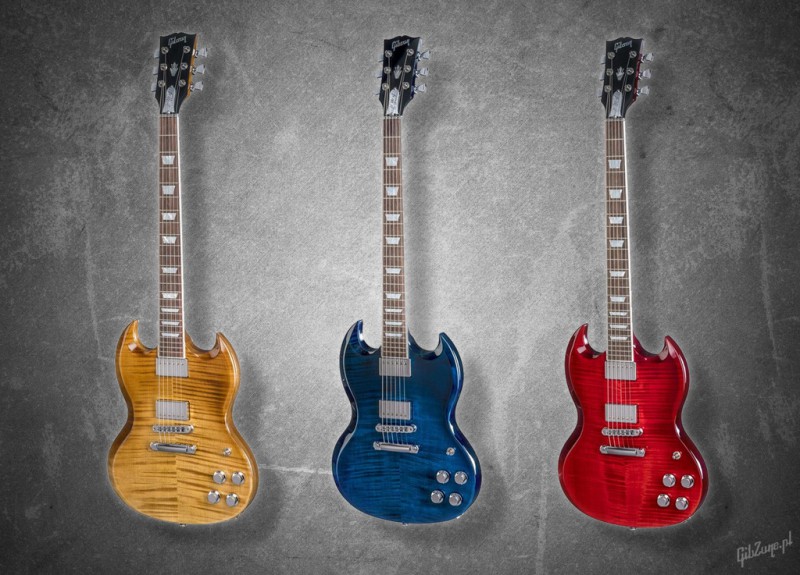 Prix Thomann au 01/09/17
: